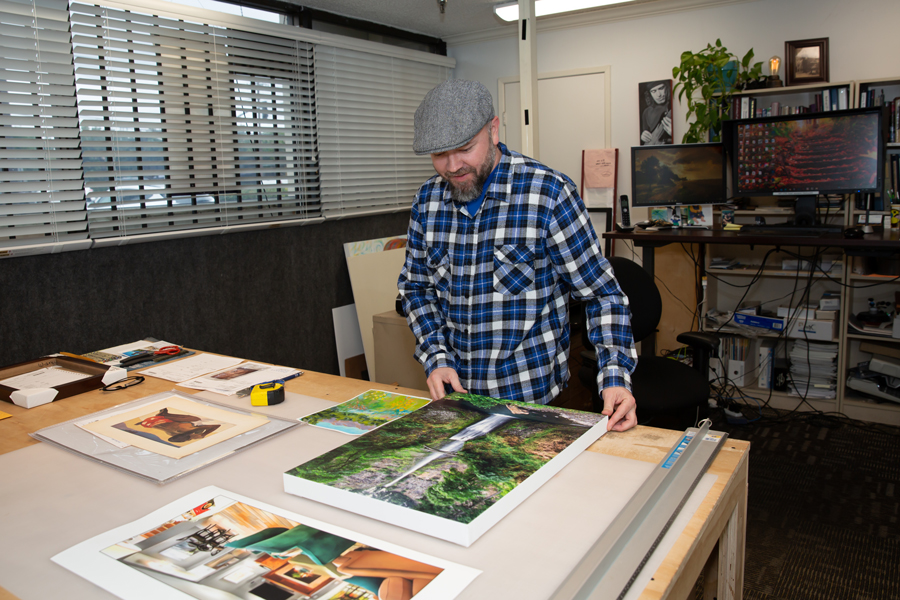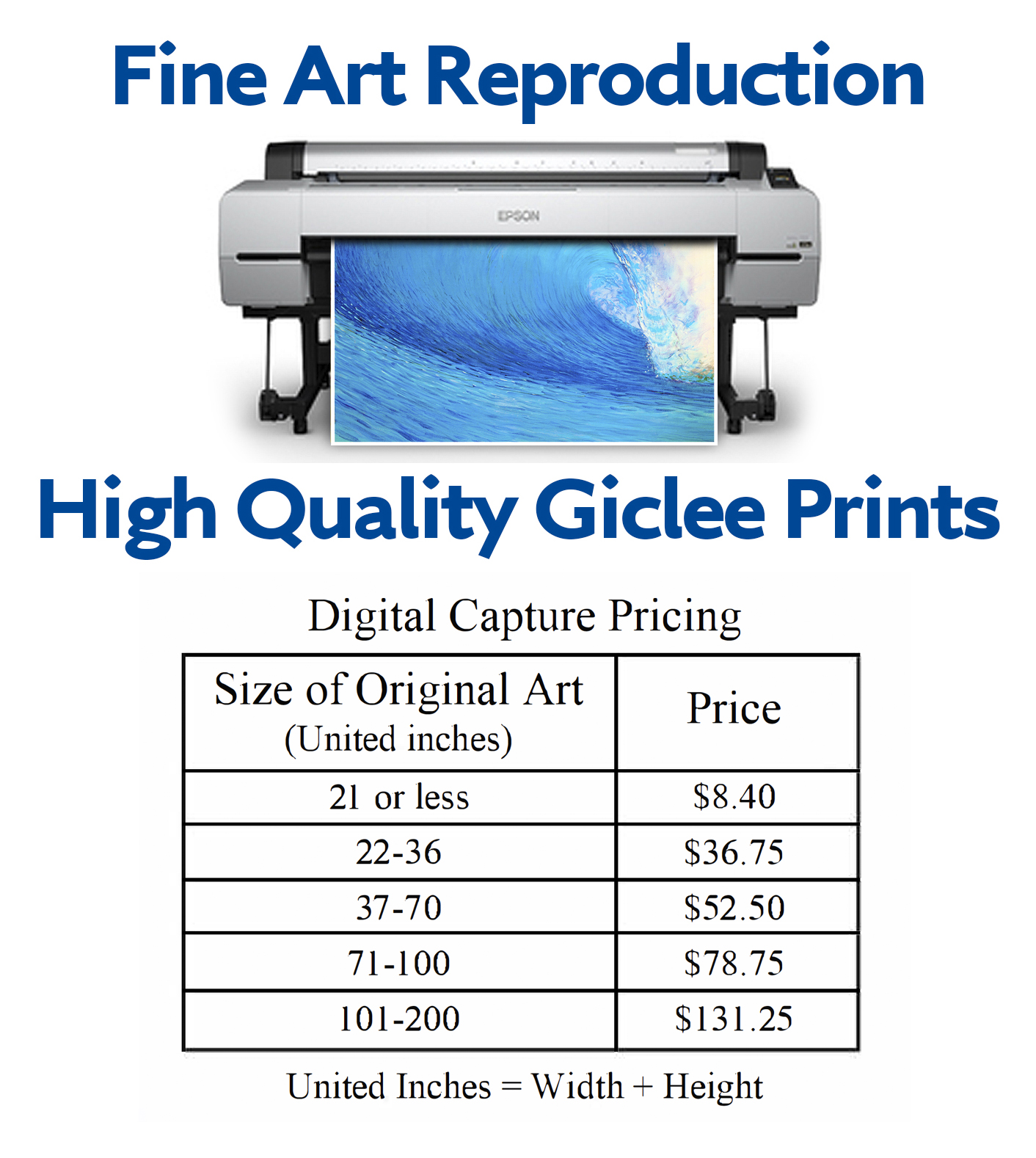 We use a 64" Epson SureColor P20000 printer and archival pigment inks to create stunning Giclee prints of your work!
Our Step-by-Step Process:
We carefully photograph/scan your work at a high resolution.
We do any necessary color corrections to the digital file while carefully examining your work on a color-calibrated monitor.
Your work is printed on your choice of fine art paper or canvas. We use custom color profiles to achieve color accuracy and maximize color gamut.
We provide you with the digital file in any format you want.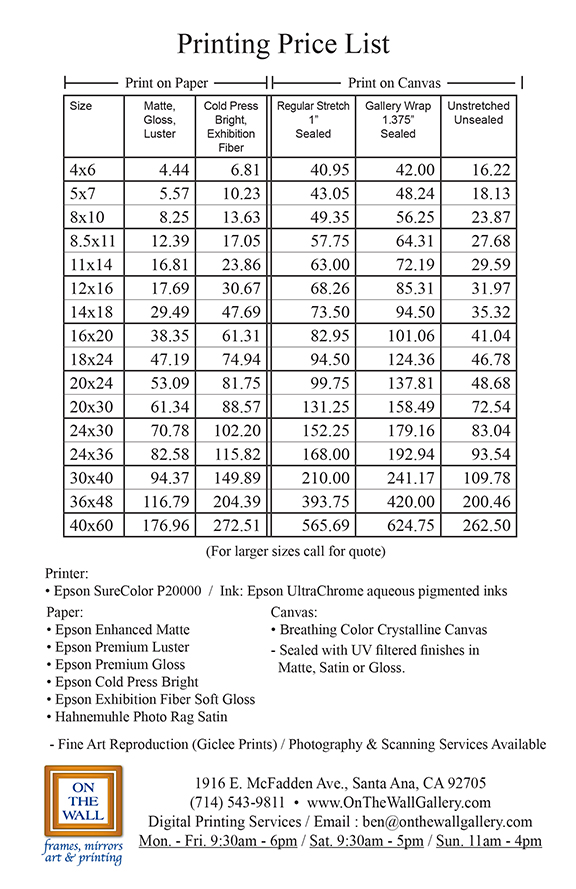 Unlike color photographs, our digital prints do not fade or color shift.

We can fix your photos before we print them so they will look great!

Of course you can get it framed here too.

We can make your old faded photos look like new- Photo restorations.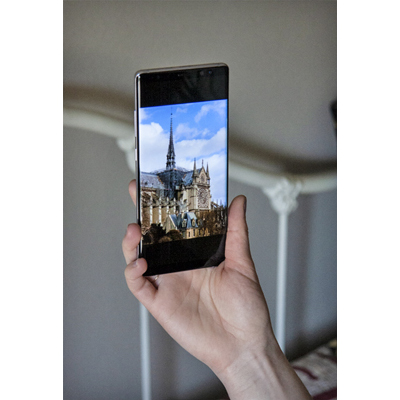 Want to print photos from your phone? Do it online or come in to the store!

From your phone, go to OnTheWallGallery.com and click on Digital Printing.

Choose the media you would like to print on.

Click on Select files to upload icon and find the image you would like to print.
---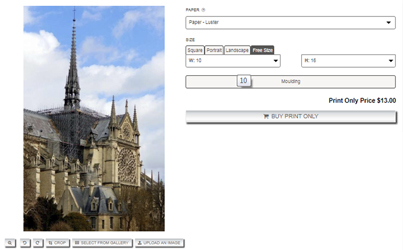 You can change the size and types, paper or canvas. We can send your printing to you or you can pick it up.
Best of all, we'll check over your image and possibly make adjustments so your picture will look marvelous.

If part of an image is not showin when uploaded, just adjust the size.

This photo of Notre Dame is supposed to be vertical. I'll use the drop down list to get the size I want.
---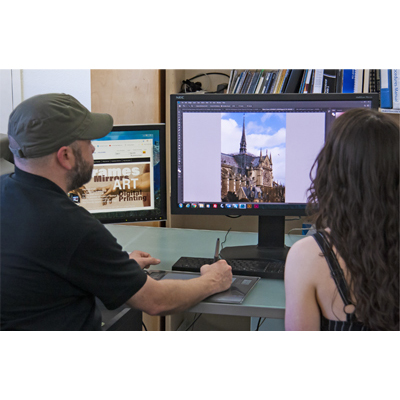 If you are uploading a digital file from photoshop save as a jpeg in the size that you want printed at resolution between 150 to 300dpi. The maximum size for online upload is 25 megabites.

_________________________________________________________________________________________________
Basic Papers

Genuine Epson UltraChrome inks on:
Epson Premium Luster paper 240gsm.Excellent general-purpose paper for color range with a mild sheen.
Epson Enhanced Matte paper. 192gsm Soft white paper excellent for vintage photos.
Arista Double Weight Matte bright white paper.
Epson Premium Glossy paper. 252gsm
Premium Papers

Genuine Epson UltraChrome inks on:
Epson Exhibition Fiber Soft Gloss.
Designed to have a look and feel of revered silver halide, F surface air-dried prints; this paper offers the highest D-Max and a wide color gamut for stunning color or neutral black & white prints.
Epson Cold Press Bright. Excellent color gamut on matte finish bright white paper with watercolor surface texture. Great for reproducing paper art.

Canvas

The image will be printed on canvas with UV Filtered Luster, Matte, or Glossy finish and stretched on stretcher bars. Staples are on the side, so this is designed to go inside a frame.

Canvas Gallery Wrap - No Frame

The image will be printed on canvas, sides finished in black, white, or a custom color, or the image can be mirrored onto the sides. Then sealed with a protective UV Filtered Luster, Matte, or Glossy Finish and stretched on .625" or 1.375" thick stretcher bars. Staples are on the backside, so this is designed to be displayed unframed or in a floater frame.
CLICK HERE TO BEGIN NOW!